News 10.19.20 : Today's Articles of Interest from Around the Internets
Monday 19th October, 2020
by P.F.M.
I guess it was after the fourth day of re-downloading Twitter when my head felt like it was going to explode. Imagine a pressure outward at the temples, like the brain is testing its most promising route for escape. I didn't have COVID (I checked), my caffeine intake is—not to brag—fine, and my annual check-up didn't deliver anything that merits mentioning. It had to be the news. There's way too much of it. I deleted Twitter from my phone again. It sort of helped.
I've let the news onslaught make me feel like shit before. I've sought it out, but just as often, it's found me through push notifications or by muscle memory drawing finger pads to apps. The last few weeks have conspired toward a breaking point. There's less than a month until the presidential election and one candidate contracted COVID. The pressure is only getting worse. And it's all just news from this country. Other countries also have news!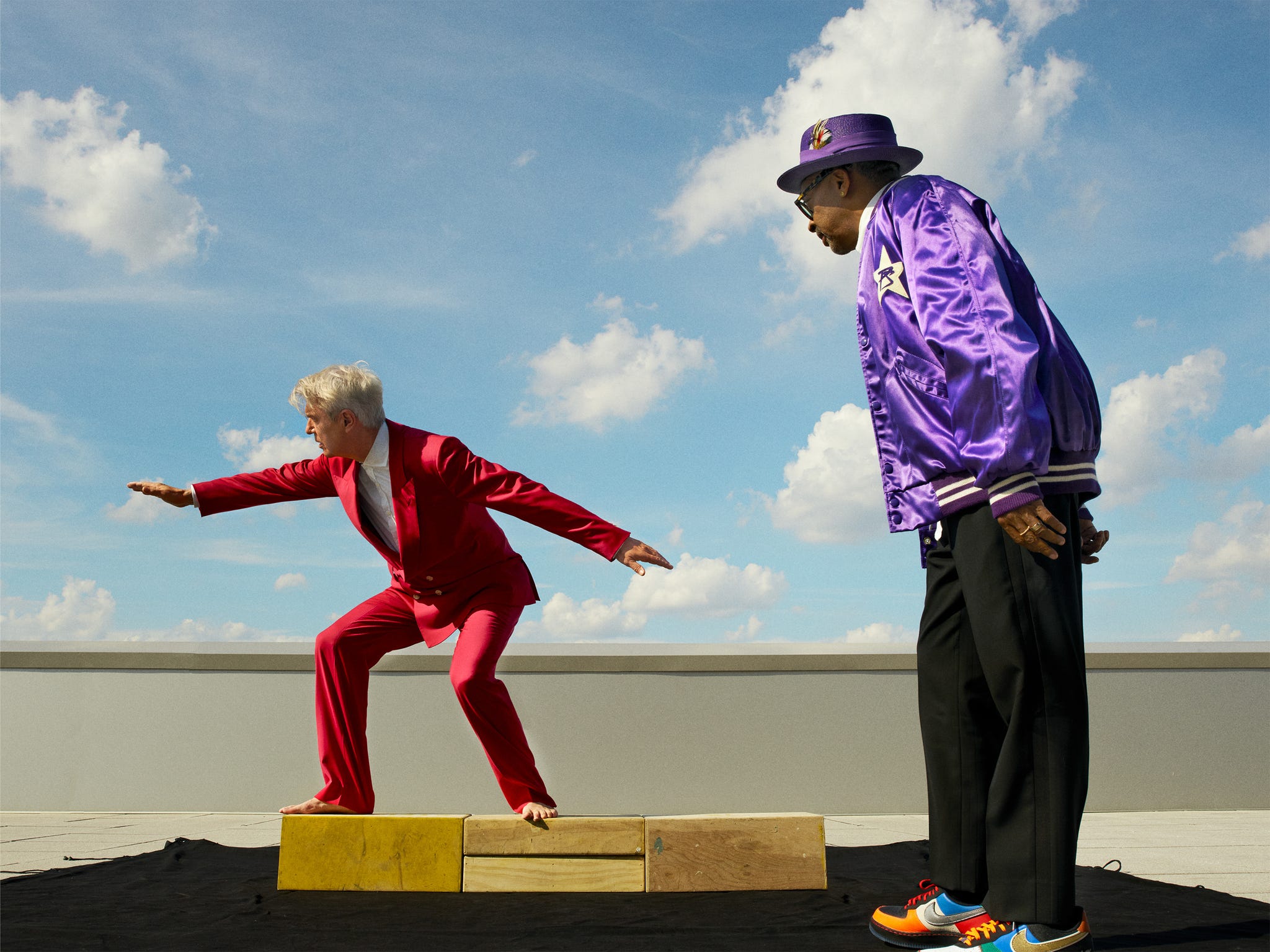 David Byrne's American Utopia begins with the sound of birds for close to a minute before revealing the singer, seated alone at a desk, holding a human brain. Otherwise, the stage is empty, save for a curtain composed of hundreds of thin metal chains that line the walls and shimmer like streaks of rain. As in Stop Making Sense, the 1984 Talking Heads concert film, band members emerge as the show progresses. They, like Byrne, are dressed in gray suits, with no shoes, no socks. It's a stripped-down look for a show that is as cerebral and subtly political as it is raucous and joyful. Byrne wrote or cowrote almost every song in it—a few are from his 2018 album of the same name, and about half are familiar Talking Heads tunes, including a version of "Once in a Lifetime" that's somehow even more poignant than the original. But it's a cover of Janelle Monáe's "Hell You Talmbout," one of American Utopia's last songs, that becomes its soul. In between, Byrne muses, philosophically and humorously, on whether babies are smarter than grown-ups and why people are more interesting to look at than, say, a bag of potato chips.
In the summer of 2019, before the start of the show's run on Broadway, Byrne had the idea to adapt it for the screen. He invited Spike Lee, whom he'd been friendly with for years, to attend previews, then asked whether he'd like to direct. Lee loved the show—and the idea. The result, which comes out on HBO in mid-October, is not a glorified theatrical recording. It's a real film.
It's also their first collaboration. Although both made a name for themselves in New York, Lee, who's sixty-three, came along a few years after Byrne, who's sixty-eight. The year Lee shot his first short film, 1977, is the same one that Talking Heads, the new-wave band Byrne fronted that made him famous, released their debut LP. (It was called, wait for it . . . 77.) By then, Byrne—handsome, tall like an antenna, and a bit shy—was a regular on downtown New York's music scene. Andy Warhol was a fan. Talking Heads had premiered live two years earlier, on the beer-soaked stage of CBGB, opening for punk pioneers the Ramones. By the time Lee released his first feature, She's Gotta Have It, in 1986, the band had banked six albums and six Billboard Hot 100 singles, and Byrne had become the unlikeliest of rock stars.
Read the rest of this article at: Esquire
Borat uses the flower bed in front of the Trump hotel at Columbus Circle as a men's room.
Sacha Baron Cohen plays the cello and is planning to take some Zoom classes from the masters.
Borat keeps his teenage daughter in a cage. ("Is it nicer than Melania's cage?" she wonders.) And when he takes her clothes shopping, he asks the saleswoman to direct them to the "No means Yes section."
Sacha Baron Cohen, who once dreamed of being a chef, loves to cook for his family.
Borat buys a chocolate cake and asks the woman behind the counter to write on top, "Jews will not replace us" in icing — with a smiley face.
Sacha Baron Cohen is an observant Jew who speaks Hebrew and works with the Anti-Defamation League on "Stop Hate for Profit," a campaign to stem the bile on social media.
Borat sings a ditty about the Wuhan flu and chopping up journalists "like the Saudis do."
Sacha Baron Cohen is Zooming in for an interview, sporting a black baseball cap, black T-shirt and a Covid-o'clock shadow.
We talk for two hours about everything from his riotous "Borat" sequel to how he fell in love with his wife, the flame-haired actress Isla Fisher, to how he prepared to play Abbie Hoffman in Aaron Sorkin's new Netflix movie, "The Trial of the Chicago 7," to how he decided to call out Mark Zuckerberg and "the Silicon Six."
The video is stark. Two menacing men stand next to a white van in a field, holding remote controls. They open the van's back doors, and the whining sound of quadcopter drones crescendos. They flip a switch, and the drones swarm out like bats from a cave. In a few seconds, we cut to a college classroom. The killer robots flood in through windows and vents. The students scream in terror, trapped inside, as the drones attack with deadly force. The lesson that the film, Slaughterbots, is trying to impart is clear: tiny killer robots are either here or a small technological advance away. Terrorists could easily deploy them. And existing defences are weak or nonexistent.
Some military experts argued that Slaughterbots – which was made by the Future of Life Institute, an organisation researching existential threats to humanity – sensationalised a serious problem, stoking fear where calm reflection was required. But when it comes to the future of war, the line between science fiction and industrial fact is often blurry. The US air force has predicted a future in which "Swat teams will send mechanical insects equipped with video cameras to creep inside a building during a hostage standoff". One "microsystems collaborative" has already released Octoroach, an "extremely small robot with a camera and radio transmitter that can cover up to 100 metres on the ground". It is only one of many "biomimetic", or nature-imitating, weapons that are on the horizon.
Who knows how many other noxious creatures are now models for avant garde military theorists. A recent novel by PW Singer and August Cole, set in a near future in which the US is at war with China and Russia, presented a kaleidoscopic vision of autonomous drones, lasers and hijacked satellites. The book cannot be written off as a techno-military fantasy: it includes hundreds of footnotes documenting the development of each piece of hardware and software it describes.
Advances in the modelling of robotic killing machines are no less disturbing. A Russian science fiction story from the 60s, Crabs on the Island, described a kind of Hunger Games for AIs, in which robots would battle one another for resources. Losers would be scrapped and winners would spawn, until some evolved to be the best killing machines. When a leading computer scientist mentioned a similar scenario to the US's Defense Advanced Research Projects Agency (Darpa), calling it a "robot Jurassic Park", a leader there called it "feasible". It doesn't take much reflection to realise that such an experiment has the potential to go wildly out of control. Expense is the chief impediment to a great power experimenting with such potentially destructive machines. Software modelling may eliminate even that barrier, allowing virtual battle-tested simulations to inspire future military investments.
'Please write regularly, or otherwise I am going to die out here.' Hannah Arendt didn't usually begin letters to her husband this way, but in the spring of 1955 she found herself alone in a 'wilderness'. After the publication of The Origins of Totalitarianism, she was invited to be a visiting lecturer at the University of California, Berkeley. She didn't like the intellectual atmosphere. Her colleagues lacked a sense of humour, and the cloud of McCarthyism hung over social life. She was told there would be 30 students in her undergraduate classes: there were 120, in each. She hated being on stage lecturing every day: 'I simply can't be exposed to the public five times a week – in other words, never get out of the public eye. I feel as if I have to go around looking for myself.' The one oasis she found was in a dockworker-turned-philosopher from San Francisco, Eric Hoffer – but she wasn't sure about him either: she told her friend Karl Jaspers that Hoffer was 'the best thing this country has to offer'; she told her husband Heinrich Blücher that Hoffer was 'very charming, but not bright'.
Arendt was no stranger to bouts of loneliness. From an early age, she had a keen sense that she was different, an outsider, a pariah, and often preferred to be on her own. Her father died of syphilis when she was seven; she faked all manner of illnesses to avoid going to school as a child so she could stay at home; her first husband left her in Berlin after the burning of the Reichstag; she was stateless for nearly 20 years. But, as Arendt knew, loneliness is a part of the human condition. Everybody feels lonely from time to time.
Writing on loneliness often falls into one of two camps: the overindulgent memoir, or the rational medicalisation that treats loneliness as something to be cured. Both approaches leave the reader a bit cold. One wallows in loneliness, while the other tries to do away with it altogether. And this is in part because loneliness is so difficult to communicate. As soon as we begin to talk about loneliness, we transform one of the most deeply felt human experiences into an object of contemplation, and a subject of reason. Language fails to capture loneliness because loneliness is a universal term that applies to a particular experience. Everybody experiences loneliness, but they experience it differently.
Read the rest of this article at: aeon